The opening hours:
Every Day 7.00 - 24.00
7.00 - 10.30 – Breakfast
12.00 - 15.00 – Lunch
18.00 - 24.00 – Dinner


Booking on
+ 91 43 36 230
or at e-mail: restauracja@restauracja.szczecin.pl
Restaurant Stary Szczecin in Hotel Victoria ***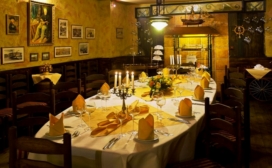 The STARY SZCZECIN restaurant serves the dishes of international cuisine.
We provide you with tasteful and sophisticated dishes, professional and pleasant service; the interior of our restaurant is decorated in an elegant manner.
We will organize a reception of any kind, customizing it with the needs of the customer in mind.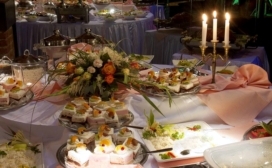 The original interior kept in a convention of an old bourgeois home with twilight of old-style lamps creates a cosy and exceptional atmosphere.
The restaurant's charm is also emphasised by the walls decorated with dozens of old photographs, etchings, drawings, and postcards as well as windows with stained glass with the coat of arms of Szczecin and townscapes.
This is undoubtedly an attractive place for tourist groups and for private and business meetings. Our air-conditioned rooms may hold 220 people. We organise parties for special occasions with all arrangements, suppers, dinners, banquets, lavish breakfast buffets, business lunches, New Year Eve's parties, and meals for tourist groups.
The richness of tastes and aromas of international cuisine on the menu meets the traditional Polish cuisine. We compose individual set dishes depending on a party's character and your expectations. Nice and professional service and diversity of dishes on the menu will delight even the most demanding guests.
Informacje
| | |
| --- | --- |
| Name: | Restaurant STARY SZCZECIN |
| Adress: | Szczecin, Plac Stefana Batorego 2 (in the Victoria hotel building) |
| Telefon, Fax: | +48 91 433 62 30, 91 433 73 68 |
| E-mail: | staryszczecin@restauracja.szczecin.pl |
| Www: | www.restauracja.szczecin.pl |
| The opening hours: | 12.00 - 24.00 |
| Number of seats: | 60 |
| Air-conditioning: | Tak |
| Menu for Kids: | Yes |
| Room service: | 12.00 - 24.00 |